One of the ironies of a post-WWII society and the ensuing technological revolution is the dramatic discrepancy between the access to traditional music and to the newfound technology-mediated electroacoustic or computer music. Consider for a moment how a musical composition, a string quartet for instance, that may be hundreds of years old continues to be relatively simple to reproduce. It requires the score, an appropriate group of musicians, a venue, and adequate amount of rehearsal time. Now, consider only decades if not minutes old computer music piece that may rely on custom or soon-to-be defunct hardware or software. Many of these pieces lack publicly available documentation because there is no appropriate publishing mechanism that can encapsulate all this additional critical information, making the piece essentially obsolete if not irreversibly lost the moment it is written. Isn't it ironic that in an age defined by an unparalleled technological revolution and cloud-based access to information, reproducing a composition introduced within a single generation may require a research paper or an entire dissertation? This troublesome discrepancy has resulted in a growing number of irreversibly lost works of art, technical knowledge, and artisanship. And for those that have been archived and somehow preserved, there is no coherent nexus, no single point of entry for a user to comprehensively search such vast resources. As a result, it is nearly impossible to have a clear picture of who composed what, when, and how, nor how such a work could be reconstructed and performed again. This problem is particularly pronounced among the interactive computer music genre that simply cannot be recreated without the aid of a supporting technology, something that is particularly relevant within the NIME community. I see this as our hair-on-fire problem.
This problem is not merely archival in nature. While preserving key performances is a major concern, we consider ensuring the reproducibility of such artifacts an even more complex problem. After all, while capturing performances is important, recordings alone are not sufficient to ensure reproducibility of such works—particularly those that rely on a supporting technology that may lack adequate documentation.
The challenge is further amplified by a growing interest among applied artists to perform these technology-mediated works. There is no easy access to such works, much less the supporting technologies needed to enable their reconstruction and performance. All too often, these works are spread all over the internet, commonly being posted on author's website, potentially in a non-standard format and without accompanying documentation, limiting their potential visibility and impact. Further, the access to and adoption of such works among applied students in primary, secondary, and higher education is practically non-existent. In addition to the aforesaid hair-on-fire problem of access and archiving, students and performers of these works also face the inherent challenge of identifying compositions of suitable difficulty. The inability to adopt such music literature at primary and secondary education levels further exacerbates their general lack of availability.
It is worth noting that within the context of this initiative, technology is defined broadly. A work does not have to require electricity or computers to be in danger of becoming obsolete. Regardless whether it utilizes electricity, or relies on acoustic properties of select materials, without adequate documentation, it inevitably faces the same preservational crisis.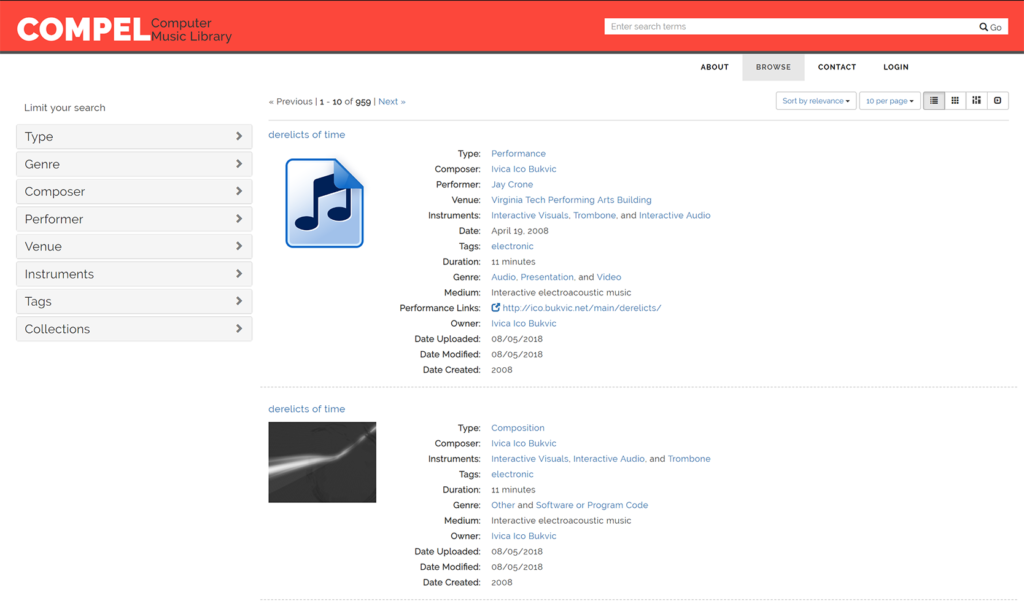 Officially launched in the fall 2016 as a partnership between Virginia Tech's School of Performing Arts and the University Libraries, COMPEL is a new crowdsourced repository designed to address this critical challenge of centralized access, preservation, and reproduction of computer music. Its initial focus is on the aforesaid vulnerable interactive subset composed for live performer(s) and some form of technology-mediated part that commonly requires potentially complex software and/or hardware setup. Furthermore, COMPEL seeks to empower composers and performers by providing a platform that seamlessly integrates the community-building social media tools with the library repository. By combining these two elements into one, COMPEL offers a crowdsourced platform that encourages users to participate and contribute to an ever-growing ecosystem of unique and cutting-edge music literature.
More specifically, COMPEL addresses the aforesaid challenges by:
Introducing a framework with multiple personas that offers storage, retrieval, sorting, dynamic curation, and reproducibility of electroacoustic compositions with an initial focus on works most affected by the preservational crisis involving both live performer(s) and technology;
Leveraging lessons learned from the successful social media and entrepreneurial ventures, including Amazon and Facebook, to provide a free, open, and dynamic community-building portal where participants actively participate in the content creation, use, and curation while also fostering discoveries based on the past user interactions (e.g. users who performed this piece were also interested in another one);
Offering a platform for connecting composers and performers that fosters community-building, visibility, and collaboration, and
Providing a foundation for crowdsourced communities and/or institution-specific forums, difficulty and appropriateness ratings, and eventually a cross-referenced platform for easy extraction of artists' activity reports. Given electroacoustic music's presence in the academic circles, a number of these features may prove particularly helpful to the higher education institutions, as well as in K-12 (primary and secondary) instruction and dissemination of the newfound literature.
Although its initial focus is solely on the performance-centric works that involve at least one live musician performing a traditional instrument, the challenge COMPEL aims to address is considerably broader—there are many other subgenres within computer music and beyond that may also benefit from this same approach. By tackling what appears to be one of the most preservation demanding subgenres, the ensuing platform is inherently also capable of supporting other, ostensibly less demanding genres, such as the ubiquitous fixed media.
The project was officially unveiled at
Society for Electro-Acoustic Music in the United States (SEAMUS) 2018 national conference and has since been rebranded as the Virginia Tech Creativity+Innovation (C+I) initiative with its scope eventually encapsulating many other forms of scholarship that are difficult if not impossible to preserve using the existing repository frameworks. The newfound framework may also serve as a foundation for impact metrics. With buy-ins secured from SEAMUS and the International Computer Music Association (ICMA), two of the largest national and international communities focusing on the interactive computer music, the project is currently in the soft-launch stages with the open access scheduled for the late summer 2019, at which point this page will provide a direct link to the online repository. In the meantime, to request access for the purpose of evaluating and/or beta-testing the current implementation, please contact me directly.
Research Team:
Ivica Ico Bukvic (PI)
Andi Ogier (VT)
Jeffery Kyle Hutchins (VT)
Visual Design Team:
Patrick Finley (VT)
Meaghan Dee (VT)
Research Publications: