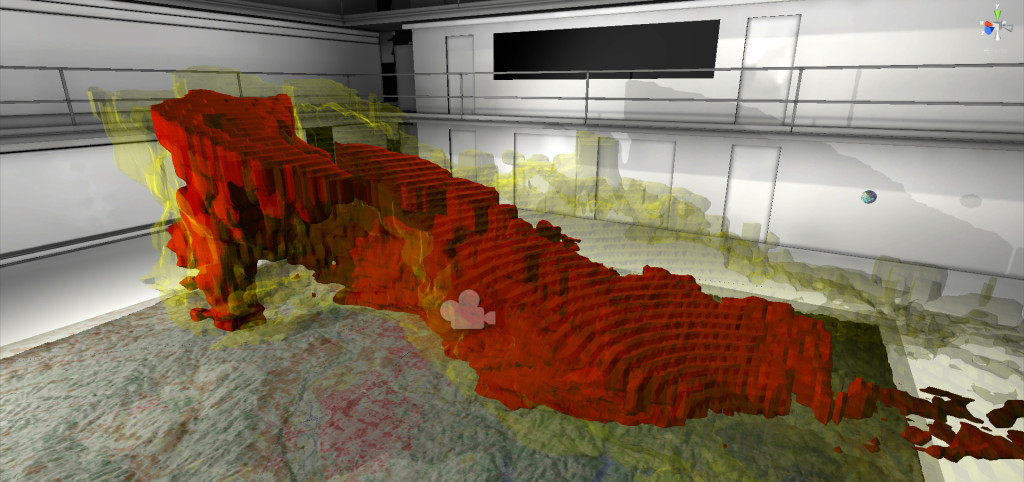 In the fall 2014 I was given an opportunity to create an aural rendition of a tornado. Serendipitously, around the same time, I met Jim Metzner, the author of the Grammy Award winning radio show Pulse of the Planet, who shared with me a historical recording of the 1974 tornado that ripped through the Guin, Alabama. How this unique recording came about is a fascinating story in and of itself–it was captured by an unsuspecting boy Richard Alan Lindley who decided to record sounds of a storm as his boyscout project. Little did he know the same storm would generate a powerful tornado that would rip right through his home curiously leaving the recorder undamaged. Even though the ensuing recording offered limited dynamic range, it did provide other invaluable info, such as the brevity and the intensity of the event itself. As a result, I set out to create an artistic rendition of a tornado inspired by whatever information I could extract from the recording, while concurrently focusing on pushing the very limits of the newfound ICAT Cube's 128-channel audio infrastructure.
You can almost feel the tremors as wind rips away nails and wood

–Adi Robertson, The Verge
To streamline the use of a large number of speakers, I embarked on the development of what has evolved into an entirely new approach to massive mutichannel audio spatialization, the end result being the D4 library for MaxMSP. The ensuing 2-minute experience came with a iPad front-end that enabled remote control of the simulation, while the simulation itself pushed 1,011 channels of 24-bit 48KHz audio in real-time, mixing it down to 128 physical outputs via Cube's Dante network (audio over ethernet) with sub 11ms audio latency.
Those are sounds that you never, ever wanna hear

–Jim Cantore, Weather Channel
Apart from a growing number of demos and tours, Tornado was also featured in some of the most unsuspecting places, including the SEAMUS 2015 national conference, a live broadcast by the Weather Channel and regional WDBJ 7, as well as the Verge story on ICAT's Cube.
The sound of that house exploding really brought home that 3D experience

–Robin Reed, WDBJ 7
Special thanks to Jim Metzner for sharing a recording of a Tornado and Sergio Nunez for sharing a rain soundclip.
Listen to a binaural rendition of Tornado captured in the Virginia Tech Cube (recording by Tanner Upthegrove)