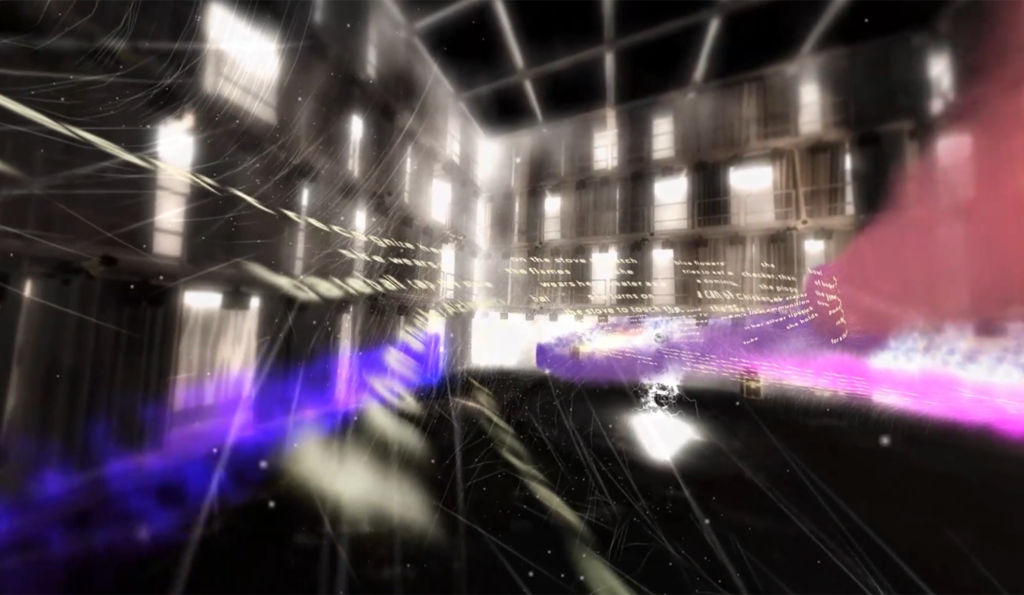 Building upon a virtual rendition of one of Denise Duhamel's poems titled Forgetfulness using Unity3D gaming engine in 2017 I revisited this project as part of a new collaboration with Zach Duer and Meaghan Dee, both of whom are faculty in the School of Visual Arts. In addition, the team periodically consulted with Ben Knapp, the Founding Director of the Institute for Creativity, Arts, and Technology (ICAT), and a prominent scholar in the area of biofeedback and empathy.
The newfound version focuses on the VR iteration where multiple observers can navigate the poem projected onto a figure 8 mobius strip seemingly suspended in the middle of the Virginia Tech Cube. Using wearable VR packs and the motion capture infrastructure such observers were free to navigate the space and study the shape and its content from multiple vantage points. Using abstract representations (avatars) to highlight their location within the virtual environment participants are also made aware of each other. The poem's words projected onto a virtual Mobius strip phase in and out of existence, reflecting the mental state of the poem's sole character. Despite its seemingly transparent appearance, the two sides of the strip contain different parts of the poem, thus subtly defying the limitations of the physical world. Specific keywords and thoughts are punctuated by the location-aware spatial soundscapes and events.

As observers navigate the virtual space and are experiencing the poem and supporting spatially-aware soundscape, they experience varying levels of stress and excitation. These are reinforced through the poem, as well as musical elements, some that offer self-standing locations where music can last up to several minutes without repeating. By wearing biofeedback wristbands that capture heart rate, heart rate variance, and skin conductance (level of skin sweat or galvanic skin response), the installation monitors for a relative change in observers' emotional states and projects them as virtual location-aware cloud-like trails. Such trails linger long after their owners have left the virtual environment, resulting in nebula-like structures around the poem with specific punchline spots offering denser clouds of colors indicative of a more dramatic shift in the observed biometric data. The ensuing visual hotspots of emotional shifts serve as beacons, attracting others to explore them and thereby feed their luminescence.

Performances:
New Interfaces for Musical Expression International Conference, Blacksburg, Virginia, June 2018. (premiere)
Pre-presidential address Cube program, Virginia Tech, Blacksburg, Virginia. September 7, 2018.
Alliance for the Arts in Research Universities (a2ru) National Conference, University of Georgia, Athens, Georgia. November 1-3, 2018.
International Conference on Auditory Display, Northumbria University, Newcastle-upon-Tyne, United Kingdom. June 23–27, 2019.
Recognition:
Two awards at the Western Virginia Advertising Awards hosted by American Advertising Federation: Gold ADDY, in the Posters category and Silver ADDY in the Virtual Reality category. Roanoke, Virginia. March 2019.